---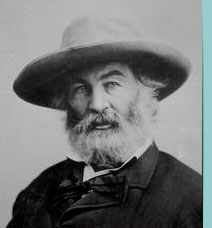 Walt Whitman
When I was a girl of eight I discovered Leaves of Grass. It was a small edition, with a dark green cover, borrowed from my father's library. As I sat and turned the pages, I thought I was turning leaves, and this magical book cast a spell over me. It opened up a whole new world of poetry for me. I have since found Walt Whitman's poetry reflected in the work of countless other poets, and in modern art, and even film. The movie musical Fame turned a portion of "Song of Myself" into an electrifying musical number called "I Sing the Body Electric." For me, the rhythms of the city and the ocean, the sounds of traffic and the sea, the feeling of Brooklyn and Long Island from skyscrapers to beaches, are all in Leaves of Grass.
Walt Whitman, often considered America's most influential poet, was born in 1819 in a small farmhouse in West Hills, Long Island, about thirty miles from NYC. Today you can go back in time and visit this fully restored homestead. The Walt Whitman Birthplace State Historic Site and Interpretive Center is open seven days a week (except holidays) in the summer, with fewer days and shorter hours after Labor Day. Admission is $5/adults, $4/students & seniors, children 5 and under free. Educational group tours for any age or grade level can be arranged in advance for a fee. They also honor poets here, and have an annual student poetry contest.
Afterward you can hike the Walt Whitman trail. Take along a poem to read and your rests will be well rewarded.
---

The Nassau County Museum of Art
Take a hike in a fabulous outdoor sculpture garden at the Nassau County Museum of Art in Roslyn Harbor. There are 145 acres of fields, woods, ponds and formal gardens, with many sculptures by renowned artists. Some have a mother & child theme, such as Caring by Chaim Gross, and de Creeft's Maternity, and others are whimsical enough to please the child in all of us, such as Alexander Calder's Sandy's Butterfly. Every Sunday afternoon is Family Sunday at the museum. See their pages on Events and Visitor Information.
---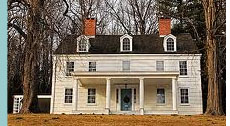 Jupiter Hammon and the Joseph Lloyd Manor
In the mid-1700s, Jupiter Hammon was a slave at the Joseph Lloyd Manor. He later became the first published African American poet. West Neck Road turns into Lloyd Harbor Road. When you reach Lloyd Lane, turn left into the parking lot for the Joseph Lloyd Manor House. Built in 1766, the house was part of a sprawling estate.
---

The Cold Spring Harbor Whaling Museum
At the Cold Spring Harbor Whaling Museum, Ocean Science Sundays, on the first Sunday of every month, offer special family activites. If you arrive in the first hour, admission is free! Explore the ocean world with experiments, crafts, and discoveries about our wondrous seas. For families, ages 5-95. Admission: $6 adults, $5 students & seniors, Families $19. Military, Members, Children under 5 free. Sundays 11-12 am, by donation. Open 11-5, Tues-Sun; Open holiday Mondays.
---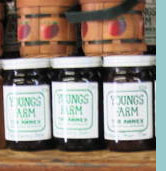 Youngs Farm
Youngs Farm has been a working farm since 1892. Stop by for some fresh produce and homemade pies. Youngs Farm, Hegeman's Lane, Old Brookville; (516) 626-3955. The farm is open February through December, Tuesday - Saturday 10 a.m. to 5 p.m. and Sundays 11 a.m. to 4 p.m, closed Mondays. Phone (516) 626-3955 before you go to confirm their hours.
---
Related Reading on Walt Whitman
These books will enhance the Walt Whitman experience for the whole family: