| | | | |
| --- | --- | --- | --- |
| | Poems by Kids | | |
See

Classes & Lectures

for more information on Laurie's poetry classes.

Poems from Laurie's Classes 2012 – 2013

*

Collage Poetry

*

The Geography of Poetry Poems from Laurie's Literature and Poetry Club

*

Laurie's Poetry for Kids Class Poems we have received

*

Poems by Laurie

---

I had been volunteering as a poetry teacher in the NYC public schools for many years, and I had dozens, perhaps hundreds, of poetry lessons up my sleeve. I called the group Laurie's Literature and Poetry Club. It worked like a charm. ... The kids enjoyed writing poetry. I never pressured anyone and I kept it fun. I taught them that poetry could be about themselves, and they combed the library's poetry section. They created self-portrait anthologies, stuffed with poems that reflected a part of who they were, an idea I took from Awakening the Heart, by Georgia Heard. I also relied on lessons created by Paul B. Janeczko; ideas drawn from The Grammar of Fantasy, by Gianni Rodari; and the groundbreaking work done with young children chronicled in Wishes, Lies and Dreams, by Kenneth Koch, the great poet and teacher who inspired me in my youth.
– Laurie Block Spigel, from Education Uncensored

---

Need inspiration? See Making a Word Box and Poetry Resources.

Become a published author (or artist)! Launch Pad is a new online magazine publishing fiction, nonfiction, poetry, book reviews, and artwork by children ages 6-12. Check out their submission guidelines.

Poems from Laurie's Classes 2012 – 2013

---

This Spider
by Abby

White spots black lines
Eight legs spinnerets
Eight eyes close together
Two things in the front


---






Mrs. Piggle Wiggle
by Amelie


Recipe for a Board Game
by Diana, Jack, and Amelie

2 pawns
5 permanent markers
12 cups of cardboard
3 decks of cards
1 piece of paper
1 board
1 pencil
1 tsp. of sugar (for energy)
12 cups of hardener
1 bucket full of questions
1 gallon of sand
1 box of chalk
Palm trees
Another person and an alien
Corner of a star
Cornbread (to munch on)
3 drops of paint
An unlimited amount of seawater
Tiny piece of glass
A Diana, a Jack, and an Amelie

Combine cardboard with hardener. Place two pawns on the board and Amelie, Jack, Diana, and the alien. Mix remaining ingredients with sea water in a super large mixing bowl. Place sand below and palm trees above. Cook for three days. Then play the game.

---

Smells, Smells, Smells
by Jack

I liked the smell game.
My favorite was peppermint.
It reminds me of ice cream —
Mint chocolate chip.
Chili peppers make me mad
Because they are so hot.

---

How to Make Diana Happy!
by Diana

Play all day with friends
Munch a bag of cucumbers
Cuddle with the hamster
Extra love extra extra love
Scratchy soft silky feel between fingers

Mix it all up ten times.
Freeze for one day.
Cook for one day.
Repeat everyday.
Then you have a Happy Diana!


---

Rainbow
by Ruthie



Carnivals
by Kristen

I love carnivals. They are so fun.
I love the smell of roasted nuts
and seeing the Ferris wheel go up, up into the sky.
I do not like when my ice cream falls to the ground.
But I do like cotton candy when you see it being made.
When it's time to go home you don't feel tired.
But when your head touches the pillow you instantly fall asleep.


---
Laurie Spigel
by Kristen

Love of laughter
Amusing
Understanding
Respectable
I like her
Entertaining

Smart
Patient
Idea giver
Great
Excited
Loving

A Winter's Night
by Lyndsey

The cars on the street, all covered in snow
The ice and frost on my window

Oh, when the wind sings
my heart rings.

The wind comes in
and blows my curtain.

And as I go to sleep, I hear the pitter patter
of the hail making icy chatter.

And this is why I smile.
Because I know the winter's night will be here awhile.
Ruby
by Ruby

Really awesome
Under the table
Beautiful
Your friend.


---


Ruby
by Abby

Radiant
Ultry
Bouncy
You're nice

---
Collage Poetry
This class combines art and poetry.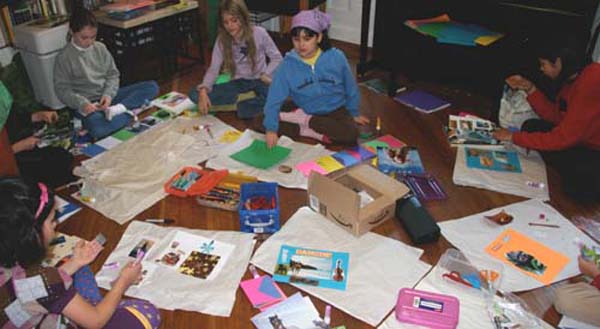 Students display their finished poems:
---
The Geography of Poetry
Yonkers, Fall 2007. Most, but not all, of the poems were about place. The class made a book of all the poems, and one student made a gorgeous illustration for the cover. They named the book Poem River. Also, each student put together a book of his or her own poems and used maps to make covers. See some examples.
---
Poems from Laurie's Literature and Poetry Club
(By children ages 6-12)
How to Make the Sun, by August
Spell for a Good Person, by Sekai
My Ocean, by Hannah
Taste a Flame , by Willem
Two Poems, by Jeffrey
Two Poems, by Joseph
Cat in a Tree What Do You Hear?,
by Sophia
The Flowers and the Rain, by Jessica
The Spell, by Agafia
Poem, by Mamoun
My Giant Lion, by Spencer
---
Laurie's Poetry for Kids Class

(click to enlarge)
These poems were written by the children in Laurie Spigel's Poetry for Kids class. They are selected from the year-end compilation Wacky Poems from the Basement. (The classes were held in a church basement.)

(click to enlarge)
See Classes and Lectures by Laurie Block Spigel for information on Laurie's classes.
See also some Art by Kids .
The Pineapple Story,
by Sekai, age 11
From Fall to Winter,
by Autumn, age 9
Relative by Yadira, age 10
Mouse by Jeffrey, age 9
Dark by Sophia, age 12
The Big Sarcastic Lie,
by Josh, age 9
Pinecone by Sophia, age 12
Sounds of Night, by Jon, age 11
Owl, by Agafia, age 8
Tree, by Agafia, age 8
---
Poems we have received:
Kate the Kitten, by Clara, age 7
A Weed can Grow, by Hannah, age 8
Set, by Jessica, age 13
Great Grey Stone, by Jessica, age 13
The Unrepentant Pup, by Heather, age 11
And here are some poems by Laurie
---