Corning — Glass and More
Glass blowing, airplanes, and cowboys & Indians are three great reasons to visit Corning, a 4-1/2 hour drive (255 miles) from NYC. This small town, just south of the Finger Lakes region, makes for a perfect long weekend for the family. See Where to Stay in Corning. And there are waterfalls nearby!

Read more about these topics in our list of Related Reading
Find more Recommended Road & Field Trips
Here are some tips for traveling with kids.
---
Glass Blowing
Corning is the home of the Corning and Steuben Glass Factories. Today it boasts the largest glass museum in the world. A full day here is not enough time to see and do everything. Explore the history of the world through glass, from ancient Rome, to the middle ages, all the way up to masters of the contemporary studio glass movement. See live demonstrations and wander through exquisite collections of glass by Tiffany and Carder. Family tours include gallery hunts with free downloads of kid-friendly guides. At the admissions desk be sure to sign up for at least one hands-on workshop where you can learn how to make a glass flower, cup, pendant, or even a clock. There is something for every age from 4 up. Showing your AAA card will get adults the discounted price of $11.90, instead of the regular price of $14, and kids and teens (age 19 and under) are FREE! Workshops are extra.
Related reading: On Glassblowing
---
Cowboys & Indians
| | | |
| --- | --- | --- |
| | In downtown Corning on Market Street you will find the Rockwell Museum of Western Art. Kids and teens are free with an adult admission at this family-friendly museum. Ask for a kids' art backpack full of creative puzzles and games that will connect the user to a theme in the museum. Follow visual art hunts through the galleries. Kids can also stop in the West Play area to dress up in old western regalia and play at a trading post and teepee. There is an AAA discount ($5.50 admission instead of $6.50) and an alternate discount if you buy a combo ticket to both the Corning and Rockwell museums. | |

Related reading: On Cowboys and Indians
---
Airplanes
Nearby is the National Warplane Museum, Wings of Eagles Discovery Center, near the Corning-Elmira Regional Airport in Horseheads, NY. If you or your child is an airplane buff, this is an opportunity to see some restored antique aircraft including several military planes.
It's a short trip from Corning to Elmira to see the National Soaring Museum, a museum of motorless flight. There are gliders on display and computerized flight simulators that you can try out. They offer summer aerospace camp programs for boys and girls. You can also take a ride in a sailplane, a bit pricey, but a memorable experience.
Related reading: On Airplanes
---
Where to stay in Corning
Many places will offer you a better deal, but no location is superior to the Radisson Hotel Corning. It is walking distance from both the Corning Museum and the Rockwell Museum of Western Art, on the main downtown street (Market St.) of this adorable historic restored town. The shops are worth browsing, and many (including the Radisson Hotel) have small museum-quality collections of art glass that are worth a peek. A small modern glass blowing studio, Vitrix Hot Glass Studio, is on Market St. You can watch the artists at work and purchase some of their pieces.
---
Waterfalls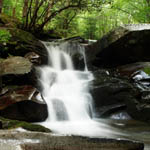 Just north is Watkins Glen State Park. This is located at the southern tip of Seneca Lake, and has a mile-and-a-half long gorge with cliffside trails and 19 waterfalls.
Related reading: On Waterfalls



---
Related Reading
Every road trip is an opportunity to record your own geography, scrapbook your vacation, and diary your thoughts. Save paper souvenirs like admission ticket stubs, museum maps, hotel stationery, cafe menus, road maps, and the like, to illustrate your scrapbook. Include pressed flowers that you pick by the roadside and press flat in a travel guide (or whatever other books you keep in your car). Add drawings and photographs of the people you meet and the places you visit. Write down how you feel about them. Trace your route on a map in brightly colored markers or highlighters. Compute how many miles you have traveled and how long it took. Write a song about where you have been or about where you are going. Travel is a natural course in social studies and geography. In these ways you can add writing, reading, math, art, and music. Discussions of climate, terrain, and geological formations which have changed over time (canyon walls, mountains, bodies of water) add science to the experience.
---
On Glassblowing:
---
On Airplanes:
---
On Cowboys and Indians:
---
On Waterfalls in New York State: