Three Faiths Exhibition * New York Public Library * Places of Worship * Museums in NYC that focus on various religions
See also World Faiths (under Social Studies) for suggested reading
---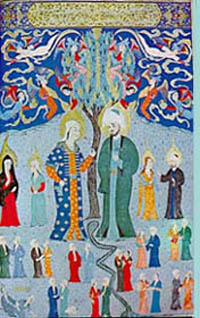 Three Faiths
Three Faiths is an on-line exhibition of rare, sacred texts and materials from Judaism, Christianity and Islam, with pages from the Hebrew Bible, the Christian Bible, and the Koran (or Qur' an). (This exhibit was formerly on display at the New York Public Library's Stephen A. Schwarzman Building at Fifth Ave. and 42nd St.) Learn about the scribing traditions of these ancient faiths, through resources, photographs, and videos. Download the educator's guide to exhibition highlights.
---
New York Public Library
Current exhibits and current events. In December there are always holiday-themed craft events, sing-a-longs, and movies at various branches. Pre-registration is required.
---
Places of Worship
The Abyssinian Baptist Church in Harlem, located at 132 Odell Clark Place, between Adam Clayton Powell Blvd. and Lenox Ave., is famous for their worship services and unforgettable choir. Sunday gospel services at 9 and 11 am attract a large tourist crowd. You must arrive at least an hour early, and wait for regular members to be seated, before they will let you inside.
The Cathedral of St. John the Divine, on Amsterdam Ave. at 112th St., offers children's workshops and a choice of tours (with varying costs). Browsing through the cathedral on your own is free. Don't miss the animal statues in the sculpture garden along Amsterdam Ave. Afterward, drop in at the Hungarian Pastry Shop across the street for a treat.
A National Historic landmark in the East Village, at 12 Eldridge St., the Eldridge St. Synagogue was one of the first synagogues built in the U.S. by Eastern European Jews which is still open today.
In Chinatown, at 133 Canal St. #1, is the Mahayana Buddhist Temple, which features a stunning 16-foot golden statue of Buddha.
Queens has a long history of religious freedom and diversity. The Old Quaker Friends Meeting House, at Northern Blvd. and Linden Place, has been in use for over 300 years. It is closed unless services are being held, which they are every Sunday at 11 am, with a silent service followed by coffee hour and fellowship.
The Ganesh Temple, at 45-57 Bowne St. in Queens, offers a daily tribute of milk to the elephant deity every midmorning. They also have a very popular vegetarian canteen downstairs, open daily 9 am to 9 pm, where you can enjoy a delicious dosa for lunch.
And of course, there's St. Patrick's Cathedral, and Trinity Church and St. Paul's Chapel (the oldest church in NYC), and so many more!
NOTE: If you visit a place of worship, please be respectful and considerate of this sacred place and its regular members.
---
Museums in NYC that focus on various religions