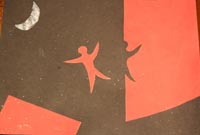 Make a Matisse-inspired cut-out collage.
Choose three colors of paper and start cutting.
Then play with both positive and negative images: the pieces that you cut out and the sheets of paper with empty spaces. Layer them on top of another sheet of paper, sometimes overlapping the pieces. Move the pieces around until you like what you see, and then glue them down.
Books on Matisse for Children
See also Laurie's Art History Class on Papercuts