---
Playwriting for Teens (ages 13-18) 2013-2014

Warm-Up Games







Matteo at the lighting board


















The class takes a bow

The class thanks Laurie
---
Playwrights, ages 12 – 14, March, 2011
Bravo to the marvelous playwrights of 2011! Seven plays gifted a delighted audience with: an historical drama set in the Civil War era; an estranged father reuniting with his daughter; an apprentice wizard conjuring up a genie; a hillbilly and a pop star; an alien and a girl who loves Indiana Jones; a mad scientist and his psychiatrist; and a thief and an imaginative little boy. Moving drama! Witty comedy! Marvelous acting! Bravo!

Laurie at the plays

Playing Wink

Wink is a warm-up game. You end up jumping up and down off of your seat trying to get into the empty seat – if you have been winked at but not tapped on your back. It sounds more complicated than it is.

Like most games, it is hard to explain but easy to play. It teaches awareness, concentration and focus, physical agility, quickness, alertness, connects you to your fellow players, gets you up on your feet, and it's a whole lot of fun!
| | |
| --- | --- |
| Adina's play in rehearsal, with Patrick and Caoilin | Adina's play with Patrick and Caoilin |
| | |
| --- | --- |
| Caoilin directing Sydney in rehearsal | Eugene and Sydney in Caoilin's play |

Dan directing Eugene and Sydney in rehearsal

Sydney and Eugene performing Dan's play

Author and actors taking bows
| | |
| --- | --- |
| Emma directing Patrick and Caoilin in rehearsal | Caoilin performing Emma's play |
| | | |
| --- | --- | --- |
| Adina performing Eugene's play | Adina and Emma performing Eugene's play | Emma performing Eugene's play |

Emma and Dan performing Patrick's play
| | |
| --- | --- |
| Dan in Sydney's play | Dan and Adina performing Sydney's play |
Bows & Applause

Laurie and her students
---
---

Young Playwrights (10 and up) 2010

Students wowed the audience with their performances of the original plays they wrote this year. Bravo! Read some comments.

Laurie with the class of 2010
Our deepest thanks to the professional actors who lend their talents to reading the students' plays.

Jeff Lodin announcing the plays
Jeff is our master of ceremonies at the readings and also a masterful musician and composer, playing music for the student plays at the performances.

Marc Castle and Zuleyma Guevara reading a student play
The class of 2010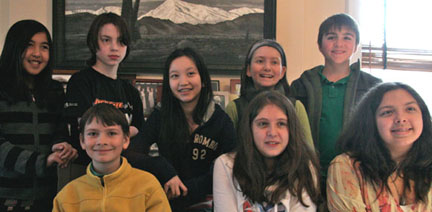 ---
Playwriting for Teens, 2009
---
Playwriting for Teens, 2006
| | |
| --- | --- |
| | Teen actors and playwrights, clockwise from upper left: Joe, Rebecca, Christopher, Michael, Laura, Austin, Marcel, Solomon (Kristen not shown). Playwriting class, May 2006 |
A great big THANK YOU! to professional actors Mark Aldredge (right) and Michael Greenwood for generously donating their talents and to Jeff and Joanna Lodin for opening their home for professional readings of the students' plays.

The plays were performed two months later by the students, and were directed by the student authors, to a packed and enthusiastic audience.
---
Comments on the classes
"Thank you for the wonderful time we had today at the performance. The kids were amazing. We were afraid that after watching professional actors playing their plays, it would be difficult for them to find their own voices. It appeared that the kids did even better than the adult professionals!
"You are doing a fantastic job. Your classes so far are the best homeschooling experience Adina has had."
– Alla and Valery Fradkov, homeschooling parents
---
"Just wanted to tell you again how impressed we all were with Sunday's performances. What you got out of those kids was simply amazing.
"To tell the truth, I wasn't expecting much from the actual performances – having seen the plays done by professionals, I thought the kids couldn't possibly measure up. But I certainly underestimated them. They were wonderful!
"What a gifted teacher you are, and what a blessing for all of us that you have found your calling and are sharing your gifts and your time with our children.
"Thank you!"
– Heather, homeschooling parent