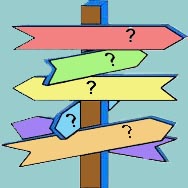 Imagine that you are six or seven years old, and a loving adult comes to you and asks you what you would like to learn. The gentle, caring adult leans down to your level and whispers in your ear: "if you could learn anything you wanted, anything in the whole wide world, what would it be?" If you could speak any language, build anything, make anything, learn any science (astronomy, physics, microbiology, there are tons of different sciences including math), play any instrument, learn about any culture or any part of the world at any period in time, be able to write poetry or plays, be able to train dogs or fly falcons or ride horses or understand any animal, fix or repair anything, paint or draw anything, do any martial art, perform in a play or sing a song, go skiing, play tennis or soccer or any sport, read any book in any language, the list of things to learn is endless.... So, if you could learn ANYTHING, what would it be?
Give your child three days to answer, and the freedom to change their minds at any point in time. Take their answers seriously and give them each thoughtful consideration. And while you're at it, do yourself a favor and ask yourself the same thing. If YOU could learn anything, what would it be? Hopefully, having the freedom to ask ourselves these questions will help us to live a lifetime of adventurous learning!
If you don't know what your child is interested in, have him or her browse through the listings of "What's free or cheap in NYC" and mark whatever looks appealing. Most of these activities are affordable (some are partial scholarships that still carry a price), but just going through the table of contents will help you to isolate your child's interests. Taking long walks together is a great environment for having a good heart-to-heart talk. As you walk, point out ads and signs for activities, and pay attention to what attracts their gaze. Do they wonder at the sign for karate, or let their eyes linger on a poster for dance classes? Are they intrigued with musical instruments or want to see how pottery is made? Sometimes it takes time for a child to feel comfortable enough to express their interests, but keep listening and you will hear them. Once you have learned what your child's interests are, you can focus on that subject as a theme in your educational plan or curriculum. (see #6 Research.)
Learning Style
We each have our own learning style. Some learn best from reading, others learn best from watching, others learn best by doing. Some need absolute quiet for concentration, others need the radio on or they can't concentrate.
Many parents and teachers I know have been helped by reading Discover Your Child's Learning Style
, by Mariaemma Willis and Victoria Kindle-Hodson. It contains a series of easy checklists that will identify your and your child's learning styles. Also, Victoria Kindle-Hodson is available locally for consultations (www.learningsuccesscoach.com). Other books on this same subject can be found at your local library or online.
Here's a useful article on Learning Styles and Strategiesfrom Professor Richard M. Felder, North Carolina State University.