Summer Fruit
Pick Your Own Farms
* Recommended Books * Blogs by Parents * Where to go Apple-Picking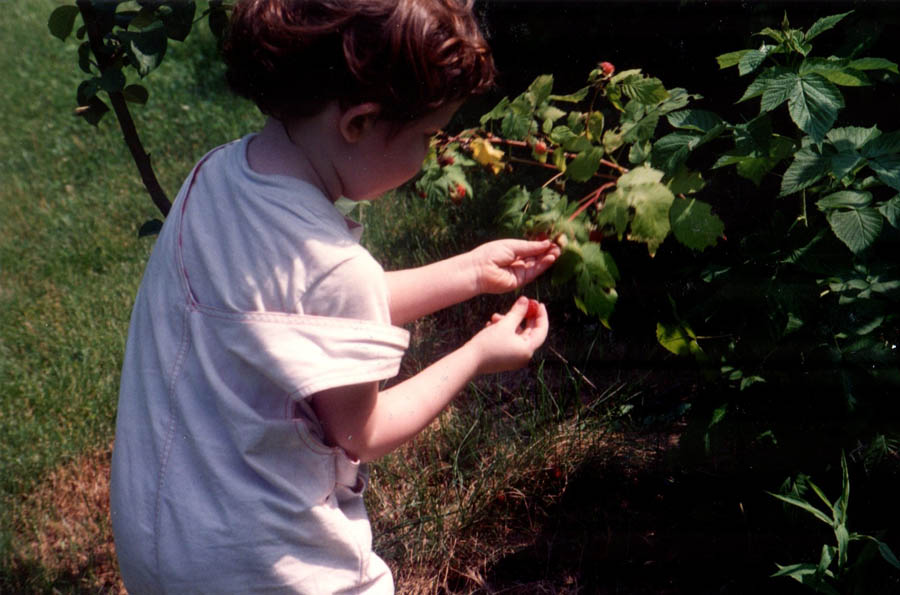 In June my kids would start asking, "Is it time yet?" They wanted to know if it was time to go picking, if the strawberries were ripe, or if we has missed them and we had to wait for the raspberries and blackberries, and for the high bush blueberries we loved so much.
We picked our own fruit every summer, on farms in New Jersey and New York, just west or north or east of the city. We would come laden home with basket-filled trays heavy with fruit for making jam, muffins, cakes, cookies, and pancakes. We gifted our homemade jam to friends and neighbors, dentists and doctors, grandparents and teachers, sometimes with ribbon-attached recipes or poems or photos of the kids hard at work. Even now that they are adults, I know they can smell summer in the breeze, with the faint wafting of fresh fruit that only a summer breeze can bring.
In this high-tech era it is even more important than ever to introduce the concept of earth-to-table. Children who grow up in urban environments and only shop at enormous supermarkets tend to think that orange juice grows in cans, and chickens never squawk or eat worms. Discovering the truth about where our food comes from and how it is raised will give us a new respect for these ingredients and a deeper understanding of our bodies and the world at large. If you want your children to appreciate their food, take them to a farm and encourage them to pick those fruits and veggies themselves!
If you can't head to the farm, then go to your local farmer's market and find out what's in season. Talk to the farmer and smell the fruit. Before your visit you can read about the fruit or vegetable of the season, which is a great introduction for little kids. After you go, have fresh berries with yogurt or cream, or on waffles or salad, or just by the handful, for the next several days! Ahhh, summer!
Pick Your Own Farms
in New Jersey
Halfway Acres, 200 Purgatory Road Campbell Hall, NY 10916, 845-239-1551, is a pick-your-own Organic Blueberry farm is open to the public in July until all berries are gone (season is 3-4 weeks long). Open every day except Monday from dawn to dusk. Farmers Mike and Blair are offering ONE FREE PINT to each home school family who comes out, plus free ice pops for everyone. Also provided: buckets, containers and bags for taking home.
A list of Pick Your Own Farms from Rutgers University
PYO Farms in New Jersey from PickYourOwn.org
in New York State:
Recommended books:
Blog entries by parents about picking berries and making jam, with recipes:
Where to go apple picking in the fall: