Create Your Own Summercamp in NYC
Water Playgrounds * Other Playgrounds * Tennis * Art * Music, Film, and More * And the cost? * Recommended reading for young children * . . . and more!
When my kids were young we created our own Mommy-and-me summercamp. With all of the free and cheap resources in NYC, I found great opportunities that I could tailor to my child. We did many of the same things that other campers did, but without the forced conformity, and with personalized variations. At the youngest ages we would meet with other mothers and children at a favorite playground. On the upper west side we might choose Hippo Park on Riverside Drive and 91st St., with sprinklers, toddler swings and shady picnic tables, or Dinosaur Park on W. 97th St.

Sometimes we met at an Adventure Playground in Central Park where a long water pool welcomed tired feet, and wide slides and climbing apparatus entertained the kids. On the east side there are some lovely statues, including the Three Bears at 79th St. just south of the Metropolitan Museum at the entrance to a small playground, and the Alice in Wonderland statue at E. 74th St., just north of the Conservatory Water, where children can rent model sailboats, and the statue of Hans Christian Andersen, apparently reading to a duck, at 74th St. near 5th Ave.
And then there's always the carousel, midpark at 64th St.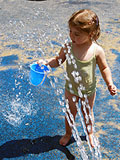 A couple of the favorite water playgrounds in Central Park are:
Heckscher Playground (7th Avenue & 62nd St.) is the largest playground in the park, with spray fountains and elevated water channels that double as walkways.

Ancient Playground, just north of the Metropolitan Museum of Art, has climbing pyramids, obelisk and a sundial inspired by the museum's Egyptian art collection. Water runs from a central obelisk across two bridges into a mini-waterfall and another area for younger children has spray nozzles set into a wall.

Keep Cool in Central Park - other Central Park locations
Water playgrounds in downtown Manhattan:
Chelsea Waterside, W.23rd St & 11th Ave. This colorful playground creates an extraordinary space with award winning equipment, water features and sand areas.
Imagination Playground - South Street Seaport, Burling Slip, South, John & Front Streets. An amazing water play area with pools and fountains, surrounded by wooden steps where parents can lounge - a contemporary, one-of-a-kind play experience. Read the NY Times blogitem.
Rockefeller Park Playground - North end of Battery Park City, west of River Terrace The water features are separated by age group: toddlers splash in a pool and play at a sand table. Older kids have a ball by a fabulous sprinkler area, separately the toddlers from rowdier play. There is also a huge trampoline-like structure and other unusual playground equipment.
For some extraordinary playgrounds in the other boroughs, check out this article in the New York Times: "Science and Secrets in New York City Playgrounds", by Laurel Graeber, April 14, 2011.

As my kids got older, they took part in larger group activities. We took advantage of the free tennis lessons around NYC, and found one from Play Tennis Now where we liked the coach and the other kids were close to the age of my son. A friend of my son's went with him three or four mornings a week.
In the afternoons they took art classes at the Art Students League (on weekend days during the year) and on weekdays during the summer, mornings or afternoons. Oonce a week they took a dance class.
In the summer New York City explodes with free films and theater, music festivals, street festivals, sidewalk art, music, and more.
The NYC Parks have free sports activities for children – see Summer Phys. Ed. and Time Out New York: Kids
FREE summer concerts in NYC EVERY DAY:
Birds in NYC: Every Tuesday, 11:30am – 2 pm, through 9/27, at the Carousel in Bryant Park, you can get a close-up visit with exotic birds from the Acadia bird sanctuary.
Visit a place that's Forever Wild: Nature in New York City. The List of Nature Preserves includes every borough:
Our summer cost less than two weeks at one of those high-priced day camps, with our evenings spent at free outdoor movies, plays and concerts, picnicking and dancing on the grass in many of our city's parks. What memories we made!
Recommended reading for young children:
Read To a Child of the City: 25 NYC experiences. Written by an editor and New Yorker who raised a child here, and who knows just how rich the experience can be.