Nurturing a Child's Love of Reading
April 2014, updated June 2017
---
---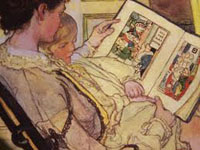 When I was a child, reading gave me the chance to escape an unhappy reality. It was not a passive activity. It was astonishingly active. I may have been lying down or sitting, but I was in another place. My imagination was activated, and I felt as if I were living in a garret in London, or skulking through the walls of the Chateau d'If, or attending a young mother-to-be in confinement in rural 1800s Russia. As I grew older I realized reading was more than a thrilling escape; it was a way to know myself better. Great writing reflects humanity, and we can see ourselves mirrored in complex characters and their stories. We have that sense of self-discovery, a personal awakening, through the reading of a good book. I remember this feeling at age four or five when I read And to Think That I Saw It on Mulberry Street
, by Dr. Seuss, a validation of my own imagination in a way that helped me to deal with the everyday world.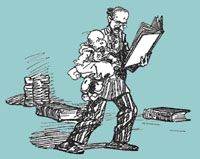 I read aloud to my husband when we were courting, and we both read to our children from when they were first-born up until they left for college. During their teen years we had family play-reading nights, with each of us taking roles created by playwrights including: Shakespeare, Oscar Wilde, Neil Simon, and August Wilson.
Make reading a special part of your child's day, with highlights and events focused on books. Start early with toddler story hours at libraries and bookstores, weekly family library visits, and bedtime reading aloud together. The last half hour of every day should be sacred reading time. This is an important habit to develop, aiming at a lifetime of reading. At this time of the day reading should be for pleasure only, so let the child choose the book and find ways to deepen your mutual pleasure of the reading experience.
---
| | |
| --- | --- |
| | Seven Activities You Can Do While Reading With Your Child to Develop Comprehension and Reading Skills |
Talk about the cover before you even open the book. Ask the child if s/he likes the cover art, and ask why. Then share if you like the cover illustration, and say why.
Try and predict what the story is about from looking at the cover art, title and author's name. Do you think it will be funny? Silly? Scary?
If there is a word in the title or on the first page that is repeated throughout the book, point to that word and say it. Ask the child if s/he would like to say this word every time it is mentioned in the book. If s/he agrees, say that every time you point to this word on a page it will be time to say it out loud. The child may be able to anticipate this word by following the story, or by actually recognizing the printed word. This allows the reading out loud to be shared by both parent and child.
Discuss the illustrations. Do they tell more of the story? Do they add information about the setting or the characters? Are the illustrations appealing? In what way?
Compare things in the book to things in the child's life. If the character has a pet, do you know someone who has a pet or have a pet yourself? Does it behave similarly to the pet in the book? If a character likes a certain food, what are your preferred foods? Find elements in the story that help the reader to relate to the characters and what is happening in the book.
Pause after foreshadowing in the story, and ask, "What do you think is going to happen?" Anticipating the next part of the story keeps us engaged in the reading process.
When there is a dilemma for a character, pause and ask the child's advice, "What would you do if you were [character's name]? If you could give this character advice right now, what would you say?"
---
Ten Book-related Activities For Any Age
(if the child is not yet reading or writing you can be the reader or the scribe)
Find a recipe and make a food mentioned in the book, especially fun if it is an exotic or historical food.
Research an animal or historical event or actual place that is in the book.
Find a picture of the author. Browse the author's website.
Using puppets, act out a scene, or perform it yourselves.
Write a song about a character or that could be sung by one of the characters.
Create or compose music that sets the tone of the story.
Draw a map of the setting.
Write poems inspired by the book, such as acrostics of characters' names.
Illustrate a favorite scene.
Write a letter to the author if s/he is alive. I recommend including your poems, illustrations, maps, etc., with your letter to the author. You might find an address on their website, or you can write to [author's name] care of (c/o) their publisher. Most authors will write back! If they do, wait to open the letter with your children. The look on their faces when a letter sent from a famous author is opened is not to be missed! If the author isn't alive, write a poem to the author as if you could speak to him or her, and imagine what s/he might say back.
My son's favorite thing to do was lie on the floor and draw while I read to him.
---
Books and Articles on Discussing Literature with Children
The Read-Aloud Handbook, by Jim Trelease — a classic in this field, includes book lists for reading aloud. Jim Trelease's website has reading tips for parents on-line as free downloadable brochures:
Reading Magic: Why Reading Aloud to Our Children Will Change Their Lives Forever, by Mem Fox. Inspired by Jim Trelease's book, this is a simple explanation of the many results that come from inspired, avid reading.
Deconstructing Penguins: Parents, Kids, and the Bond of Reading, by Lawrence and Nancy Goldstone — a guide to parent-child literature discussion groups.
Should We Burn Babar?: Essays on Children's Literature and the Power of Stories, by Herbert Kohl — a series of essays that may help to open your eyes to the many different aspects of children's books.
The Reading Promise: My Father and the Books We Shared, by Alice Ozma — a reading streak between a father and daughter that lasted from grade 4 to college is described in moving detail.
---