Improvisation in Jazz and Homeschooling
February 2015
Related Articles * Books on Play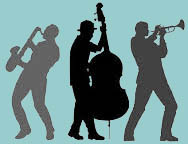 I have had a lifelong love affair with jazz. Before we had kids, whenever we had a little spare time and money, my husband and I would peruse the jazz clubs of the West Village, starting at one and ending up at another the same night. We were intoxicated with African drumming, Brazilian percussion, moody trumpet wails, New Orleans rhythms, lyrical guitars, and voices that reinvented every instrument. We spent our savings on tickets to Miles Davis and Ella Fitzgerald, and saw Bobby McFerrin in an unforgettable debut performance.
Then came children and homeschooling, and I learned how to find our entertainment for free (or cheap), at open-air concerts in the city parks where the kids could talk, dance and play; at museums on free days; through the NY Public Library system. At home we collected used instruments: drums, finger cymbals, a xylophone, pennywhistles and recorders, an old upright piano, kazoos, maracas, harmonica, and even a nose whistle (which my boys got pretty good at). We would play along to music and make up our own. My older son composed songs and my younger son mastered piano scales.
Years later, after the kids were grown and had flown the nest, I took an intensive course on improvisational theater games. One expert teacher told this anecdote. She had often wondered what she had in common with her husband, a jazz critic, until they moved into a new home and her books ended up next to his. All of her books on theater and his books on jazz had titles with the word improvisation. In that moment she realized just how much she shared with her husband, and how their work was strikingly similar.
At a homeschooler's meeting, I heard a parent compare homeschooling and unschooling to jazz. It makes sense: jazz is improvisation, theater is improvisation, and education is also improvisation.
I have studied improvisation with some of the greatest teachers alive today, and yet I know that I am still a beginner, still learning to let go and move with the flow. The challenge, as in everything, is about focus. Connecting with the space, with fellow players, with a director, with an idea, is so often elusive. We become distracted, or afraid, lost in our own limitations. But then, perhaps suddenly, we focus and awaken to the moment, able to discover something new.
With all my experience as a teacher, I still feel like a beginner just as I do in improvisation. Every student and class poses a new challenge. As in parenting, just when you think you know what to expect, just when you have figured out something that works, the children change and you have to figure it out all over again. The only way to teach continuously is as an improvised dance, a playful collaboration, a jazz riff. It doesn't really matter what the next note or step is, so long as you stay connected with your fellow players (child or student), with the environment (home, community, world), willing to let go of expectations and plans (curriculum) so you can find something new. Don't be afraid. Embrace the unknown! It is there that you will find discovery!
---
"What we play is life."
— Louis Armstrong
---
Related articles:
---