Making a handmade book can be a very rewarding experience, motivating the writer to fill it with words and images. Stick-and-elastic books are particularly gratifying because they can be made in just a few minutes. All you need is a few sheets of paper, a pair of scissors or a hole puncher, a large rubber band (or ribbon or string), and a stick. If your paper is standard size, 8-1/2" X 11", then your stick should be six to eight inches long .
Instructions
Take four sheets of paper and fold them in half the short way, so they resemble a book (now 8-1/2" X 5-1/2").
Cut two notches along the folded edge, one about an inch in from the top and the other one about an inch from the bottom. (Or you can punch two holes just inside the folded edge.)
Now for the tricky part… from the inside of the folded sheets of paper, stretch your rubber band through the holes and around the edges of your stick. Do this one hole at a time. You may need to fold the papers a bit as you stretch the rubber band through the second hole and around the other end of the stick, but your book will straighten out once it's finished.
Handmade Book Instructions (pdf format)
YouTube video demonstration by Susan Kapuscinski Gaylord
---
Stick and elastic books have been made in the following classes: Homes for Poems, Leaves of Summer, Fairytale Writing, Short Story Writing, and various poetry workshops. See details of Laurie's Classes & Lectures.
My students and I have made these books with twigs collected from the ground. We have also used chopsticks, pencils, plastic drinking straws, and even a cinnamon stick for a small booklet. Handmade leaf paper is available at art supply stores and specialized paper shops.
---
Pictures of Handmade Stick-&-Elastic Books
Three stick-and-elastic books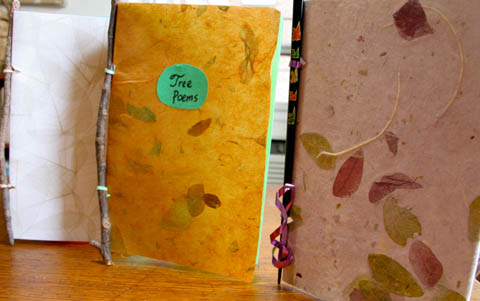 ---
Book made with twig, patterned leaf paper, rubber band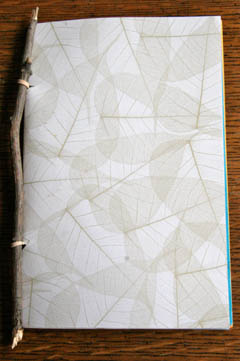 ---
Tree Poems, made with twig, handmade leaf paper, rubber band
Center page of Tree Poems showing rubber band
---
Book made with chopstick, ribbon, handmade leaf paper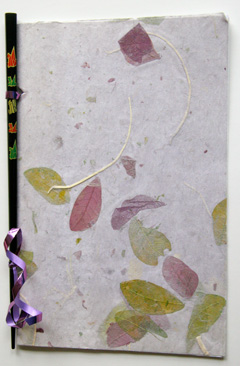 ---
Memo book made with cinnamon stick, red rubber band, and patterned leaf paper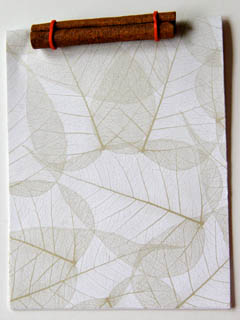 Back side of memo book (using cinnamon stick) showing red rubber band and hole punches